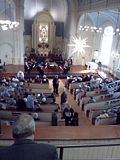 Sunday afternoon I heard the
American Bach Soloists
give smooth, pleasing performances of the Orchestral Suite in C Major, the Missa Brevis in G Major, & the birthday cantata
Hercules at the Crossroads
. An ensemble of 19 played the Orchestral Suite. Tempos were fast yet stately.
Dominic Teresi
's bassoon solos were brisk, & oboist
Debra Nagy
played expressively. Conductor
Jeffrey Thomas
led with small, minimal gestures & ended each movement with a feeling of uplift. The chorus & soloists were behind the orchestra for the Missa Brevis & the cantata, & the soloists also sang in the choruses. The 19-member chorus made a solid, unified sound, & their entrances & cut-offs were very together. I'd never heard the Hercules cantata before, but Bach recycled most of the numbers into the Christmas Oratorio, making me feel like I was wandering in & out of a Christmas concert.
Baritone
Jesse Blumberg
sang a virtuosic aria in the mass with a warm, even sound. He didn't get an aria in the cantata, but he sounded youthful & firm in his extended recitative at the end, & he colored his voice nicely. Tenor
Derek Chester
has a ringing, clarion voice & sang rapid runs with clarity & ease. He certainly communicated soaring flight in his tenor aria in the cantata. Soprano
Kathryn Mueller
has a strong, supple voice that is a little warbling. She sounded cute, even when portraying Vice in the cantata. Countertenor
Ian Howell
sounded open & free & sang flexibly. He enunciated the "ch" sound very distinctly in the cantata aria "Ich will dich nicht hören." Ms. Nagy accompanied him with a full-bodied tone in the echo aria "Treues Echo dieser Orten." Countertenor
Dan Cromeenes
supplied the impressively punctual off-stage echo, even though it was not at all apparent how he was being cued. The orchestra's 2 violists stood while accompanying the alto & tenor duet "Ich bin deine." Everyone on stage looked delighted to be there, & the perfomance had a slightly giddy atmosphere. Mr. Chester in particular appeared gleeful, whether singing or listening along.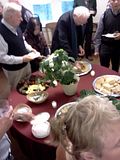 While the stage was reset for the Missa Brevis, ABS president
Hugh Davies
, a bass in the chorus, gave a cheeky speech, asking the audience for support beyond the ticket price, "whether you are a
gambler
,
party animal
or
philanthropist
." He concluded by proclaiming ABS's new tag line as "Music to enrich your soul & impoverish your wallet." It was well-begged. During intermission substantial refrehments were served in a downstairs reception room. A barking dog attended, & there was an outbreak of spontaneous singing.
§ Bach's Hercules
American Bach Soloists
Kathryn Mueller, soprano
Ian Howell, countertenor
Derek Chester, tenor
Jesse Blumberg, baritone
American Bach Choir
Jeffrey Thomas, conductor
Orchestral Suite No. 1 in C Major, BWV 1066
Missa Brevis in G Major, BWV 236
Laßt uns sorgen, laßt uns wachen, BWV 213
February 23 2014, 4:00 pm
St. Mark's Lutheran Church