Wednesday night I attended the 1st of 2
Messiah
performances by
American Bach Soloists
in Grace Cathedral. The setting was made even more stunning by seasonal decorations of long, shimmering ribbons hanging in the interior. There was a feeling of a special event. The
Rt. Rev. Marc Andrus
, Episcopal Bishop of California, introduced the program, praised the musicians & conductor
Jeffrey Thomas
, & urged us to act in solidarity with the poor.
The performance was immaculate & had the manner of a well-prepared ritual. My concert companion declared it "flawless." The cathedral's long reverberation time gave the music a gauzy halo. The orchestra often played softly to minimize sounding muddy. The overture was pianissimo, creating an eerie & expectant atmosphere. Tempos were measured, with occasional brief rubatos. "He shall feed his flock" had a slightly indulgent pace. Maestro Thomas liked to make clear dynamic contrasts between phrases, & the ends of numbers were always meticulously executed.
The soloists stood in the middle of the orchestra rather than out front. Soprano
Shawnette Sulker
sang with a high, bright & tight voice. Countertenor
Eric Jurenas
had a focused, narrow sound & was assigned "But who may abide the day of his coming," "Thou art gone up on high" & "If God is for us," besides the traditional alto arias & may have gotten slightly fatigued. Tenor
Aaron Sheehan
was wonderfully consistent. His clear, bell-like voice carried well. I enjoyed hearing baritone
Mischa Bouvier
's warm, furry & comforting sound.
John Thiessen
accompanied him in "The Trumpet shall sound" on a mellow-sounding Baroque trumpet which he played with impressive accuracy. The chorus of 35 singers was split, with sopranos & tenors on the left of the orchestra, altos & basses on the right. They sang with precision & had a transparent texture. Because of the stereophonic separation, phrases bounced from one side to the other in fugal passages.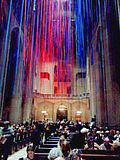 The serious-minded audience was as focused as the performers. The attentive silence throughout was palpable. Even though a couple at the end of my row slipped out after the Hallelujah Chorus, this was among the quietest audiences I've ever been in. Despite a program note debunking the origin story of the tradition of standing for the Hallelulah Chorus, the audience rose without hesitation for a "Hallelulah!" with a perfectly smooth & even surface.
§ Handel's MESSIAH
American Bach Soloists
Jeffrey Thomas, music director
Shawnette Sulker, soprano
Eric Jurenas, countertenor
Aaron Sheehan, tenor
Mischa Bouvier, baritone
with the American Bach Choir
Wednesday, December 11 2013, 7:30 pm
Grace Cathedral