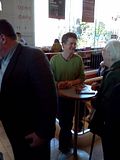 I had a seat in the side terrace for the
San Francisco Symphony
's well-attended
Sunday matinee
.
MTT
led Liszt's
Prometheus
tone poem without a baton & shifted easily between moods, but I did not grasp the overall structure, if there is one. It was surprising to hear a fugue in the middle of it. There is also an unusual passage for trumpet & tuba. The performance was clean, & the strings played strongly & with bite.
MTT addressed the audience before soloist
Christian Tetzlaff
came out for the Ligeti Violin Concerto. MTT noted the work's "recklessness" & gleefully pointed out the ocarinas in the orchestra. The piece uses a reduced orchestra, with only 11 strings & a handful of brass & woodwinds, but of course it requires 3 percussionists. Mr. Tetzlaff's playing was consistently smooth & warm, no matter how extreme his part. He could have been playing Mozart. The long violin lines in the middle movements were beautiful, & his chords & pizzicato were were emphatic & startlingly crisp. According to the program notes, Mr. Tetzlaff supplied his own cadenza, which included eerie quarter tone double stops & a spooky passage in harmonics that uncannily imitated whistling. MTT beat time fastidiously & led with relative restraint. The dance & folk elements of the piece came through, especially in the last movement. I liked the brasses' softly played chorale in the 2nd movement, & the entire orchestra played alertly. Mr. Tetzlaff has a happy & boyish stage presence, & he received a warm response from the audience & the orchestra.
Tchaikovsky's Symphony No. 1 occupied the 2nd half. MTT had a score on the podium, but he never opened it. The orchestra, especially the strings, made a full sound throughout. Every movement seemed to unfold at the same ceremonious tempo. I enjoyed the lovely, pure-toned clarinet solo in the 1st movement & the long, seamless oboe solo in the 2nd movement, both solos nicely understated.
Michael Tilson Thomas, conductor
LISZT: Prometheus, Symphonic Poem No. 5
LIGETI: Violin Concerto
TCHAIKOVSKY: Symphony No. 1 in G minor, Opus 13, Winter Daydreams
Sun, Jan 8, 2012 2:00pm
Davies Symphony Hall