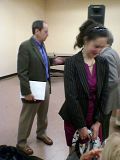 Friday afternoon I attended a panel talk about non-print classical music reporting, put on by the
Music Critics Association of North America
, who are having their annual meeting in San Francisco this week.
Anthony Tommasini
of the New York Times related the positive feedback he has received for his
on-line music appreciation videos
.
Chloe Veltman
told us how she went from free-lance journalist to
radio show
host to
podcaster
, but when she mentioned an under-paid, "
tech-savvy, at-risk youth
" who is her technical producer, I wondered if I should start a "Free Seth" campaign.
Anne Midgette
of The Washington Post, paraphrasing
Brent Assink
, informed us that audiences no longer want to be just lectured at.
Lisa Hirsch
ran down a list of specific, practical advice for those getting into
blogging
. She suggested focusing on the 3 biggest draws: Opera, death, & gossip. After a break,
John Robinson
, executive director of
San Francisco Classical Voice
, gave us a history of the site & led us in singing Happy Birthday for the site's founder, Robert Commanday.
John Rockwell
stated that the days of the generalist critic are over & that we are instead in the age of the "impassioned specialist." He warned that there is no viable business model for blogging & that on-line discussions are going to be led by the most passionate. Due to time constraints, there was no time for questions. The event was held in a drab rehearsal space in the basement of Davies Hall, & it did not make me feel that being a music critic is a particularly glamorous gig.
SFMike
&
Patrick
were among the attendees, though they are probably the least in need of the information presented.
§ Music Criticism Meets the New Media
Music Critics Association of North America
Friday, June 17, 2011 at 1:30pm