Free Concert at Dolores Park
San Francisco Symphony Celebrates Mexico's Bicentennial
Alondra de la Parra, conductor

Márquez, Danzón No. 2
Chávez, Symphony No. 2, Sinfonia India
Rosas, Sobre las Olas
Moncayo, Huapango
Dvořák, Symphony No. 9, New World

Sun, Jul 25, 2010 2:00pm
Dolores Park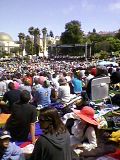 Even though it was cloudy & cold in my neighborhood, there was some blue sky & warmth by the time I got to Dolores Park for the
San Francisco Symphony

's free concert in commemoration of Mexico's bicentennial
. There was an enormous crowd of picnickers blanketing the upper part of park & having a relaxing afternoon. Unfortunately I made it there just before the intermission, so my experience started with the irresistibly danceable
Huapango
. Dvořák's
New World Symphony
was similarly bouyant. I liked that conductor
Alondra de la Parra
was always well ahead of the orchestra & did not seem to over-conduct. The 1st movement was expansive, & the 2nd movement had a sustained floating feel. Since the crowd applauded after every movement, de la Parra could give the English horn soloist a bow after the
Largo
. I found myself gently swaying to the dancing lilt of the
Scherzo
, & the final movement was fleet without feeling rushed. Maestra de la Parra addressed the audience in both Spanish & English & obviously made many fans this afternoon. I may be one of them. Her CD on sale during the event sold out by the intermission.
The audience got to select an encore via texting. The choices were Mozart's overture to
The Marriage of Figaro
& Bernstein's overture to
Candide
. Mozart won, despite a sudden surge of votes for Bernstein after the intermission. The crowd gave the concert a standing ovation, & I think they would have liked to hear the
Candide
as well.