Last weekend a friend invited me on a field trip to
Weill Hall at Sonoma State
to hear
The English Concert
perform
Handel's Theodora
. The performance was very proficient. Conductor
Harry Bicket
led from a harpsichord, & the orchestra of 25 played with impressively tight ensemble & clean intonation. The strings' 32nd notes during "Kind Heav'n" were astonishingly neat & together, & leader
Nadja Zwiener
displayed effortless virtuosity in "Sweet rose and lily." The brass & wind players sometimes stood for their solos. Maestro Bicket often connected the numbers, & the performance flowed at an even pace.
Countertenor
David Daniels
as Didymus was an expressive singer & had a dense, muscular sound. Soprano
Dorothea Röschmann
had a somewhat metallic sound & sang with nice rubato. Mezzo
Sarah Connolly
was solid, weighty & serious as Theodora's companion Irene. Tenor
Kurt Streit
, replacing the originally announced Andrew Kennedy, was a bright & urgent singer. I liked the mocking way he sang "Mistaken wretches! ... Dread the fruits of Christian folly." At one point he picked up a page of music that had fallen to the floor & placed in on the conductor's harpsichord. Bass-baritone
Neal Davies
was appropriately blustery & barking as the tyrant Valens. The youthful 24 member
Choir of Trinity Wall Street
was great. I liked their grounded, warm & cushy sound
.
They portrayed a very human chorus.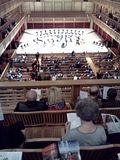 My concert companion & I sat in the center of the balcony, where it was easy to hear all the musicians, even the theorbo player, though somehow the sound from the stage never seemed quite hall-filling. The concert ran nearly 4 hours, including 2 short intermissions which the printed program failed to specify. The audience was very quiet throughout & even let the silence linger at the conclusion of each part. There was major audience attrition after part 2, but those that remained gave the performers sustained applause & a standing ovation. The
online listing
mistakenly labels the event as "An Opera in Concert."

§ Handel's Theodora
The English Concert
Harry Bicket, conductor

Dorothea Röschmann, Theodora
Sarah Connolly, Irene
David Daniels, Didymus
Kurt Streit, Septimius
Neal Davies, Valens

The Choir of Trinity Wall Street
Julian Wachner, director

Saturday, January 25, 7:30 pm
Weill Hall at Sonoma State University