Berkeley Opera
Legend of the Ring
Adapted by David Seaman

Conductor: Jonathan Khuner
Stage Director & Production Designer: Mark Streshinsky

Wotan, Wanderer, Gunther: Richard Paul Fink
Froh, Siegmund, Siegfried:Jay Hunter Morris
Woglinde, Freia, Sieglinde, Forest Bird, Gutrune: Marie Plette
Fafner, Hunding, Hagen: Dean Peterson
Wellgunde, Brünnhilde: Christine Springer
Alberich, Fasolt:Bojan Knezovic
Loge, Mime: Stephen Rumph
Flosshilde, Fricka: Valentina Osinski

Sunday, August 8, 2:00 p.m.
Performing Arts Theater, El Cerrito High School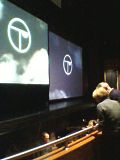 Going in, I was already skeptical about this 3½-hour adaptation of Wagner's
Ring
. Like Melville's
Moby Dick
& Michaelangelo's
David
, the size of
The Ring
is part of its content, so the whole endeavor seemed suspect to me. But I eventually attended the final performance by
Berkeley Opera
on Sunday so that I could be censorious from firsthand experience. This version presents
The Ring
as a continuously unfurling, dynastic story. Anything that does not advance the plot is dropped. This means skipping every musical highlight of the cycle, so no
Wintersturm
,
Ride of the Valkyries
or
Funeral March
, for a start. As a result there are no big pay-offs, & by the middle of the 2nd half I was finding it tedious. The orchestra is reduced to a band of 17 that does not even include violins, oboes or bassoons. The resulting sound was anemic. I was also bothered by the use of sampled harp sounds instead of the real thing. On Sunday there were many tentative entrances & intonation problems, especially in the 2nd half.
The huge-voiced cast of 8 was great.
Richard Paul Fink
's singing was strong & weighty. Besides being a commanding Wotan, he seemed to enjoy playing a very mousy Gunter.
Jay Hunter Morris
sounded very Wagnerian as well. His tenor sound is heavy, but with a bright & slightly gritty edge. I liked the fullness & depth of
Marie Plette
's soprano, & her characterization of a chatty Forest Bird talking on a cell phone was a welcome comic highlight.
The production made good use of stage-filling projections in lieu of sets. The Rhinemaindens cavorted with swimming fish & collected floating balls of gold. Siegfried's bear was implied by projections of paw prints. Some of the action took place in silhouette behind the screens, which was also visually effective. The costumes were contemporary rather than mythological. Wotan wore the obligatory suit. Alberich, in torn jeans & flannel shirt, looked like a homeless man. Fasolt & Fafner were maintenance men in overalls, though Fasolt would probably have looked more threatening if he were not wielding a paint roller.
The performance was well attended, & I was able to get a ticket only because balcony seats were made available after the main floor had sold out. There were random conversations throughout the hall all during the show, though I do not think that anyone was bored by the performance.