San Francisco Symphony
Christoph Eschenbach, conductor
Christine Schäfer, soprano
James Johnson, bass-baritone

Schumann: Symphony No. 4
Zemlinsky:

Lyric

Symphony

Thu, Apr 29, 2010 2:00pm
Davies Hall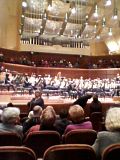 After much of the orchestra was on stage prior to
this matinee at the SF Symphony
, stage hands came out & removed the podium, making it evident that conductor
Christoph Eschenbach
would be leading the Schumann
Symphony No. 4
without a score. The orchestra played out the entire time, & my basic impression of the performance is how loud it was, at least from the front orchestra. I was grateful for the comparatively quieter moments, such as the 2nd movement solos by principal cellist
Michael Grebanier
& concert master
Nadya Tichman
. Mr. Eschenbach is a somewhat detatched & strange presence on the podium. I could not see the relationship between his gestures & the music. He connected all the movements, at one point even continuing to beat time during the transition.
For the Zemlinsky
Lyric Symphony
the orchestra was larger & even louder. The scowling
James Johnson
, substituting for an ill Matthias Goerne, has a Wagnerian voice & managed to match the huge noise made by the orchestra. His singing is well-modulated & expressive. He even did a nice falsetto at the end of
Ich bin friedlos
. He sang without a score & demonstrated a strong stage presence. He stood up to begin
Befrei' mich von den Banden deiner Süsse
with such a sense of menace that he looked like he was about to fight someone. Soprano
Christine Schäfer
sang strongly & with great expressiveness as well.
I had never heard the
Lyric Symphony
before, & at times I was reminded of Berg, Korngold & Mahler. The orchestral interludes that connect the songs are especially colorful. I left feeling unbalanced & a bit out of sorts. I don't know whether to blame Zemlinsky's music, Tagore's distressing love poems, or the over-all loudness of the concert.